Posted by
Leo
in
Campaign 2009
Puerto Rican Guy
Launches a UFO
Lajas, PR - The town of Lajas was best known for its piña cabezona - the big juicy-headed pineapple. 
Thanks to the Puerto Rican guy it is now known for a UFO landing strip, a flying cock, and a spaceship that looks like a frisbee.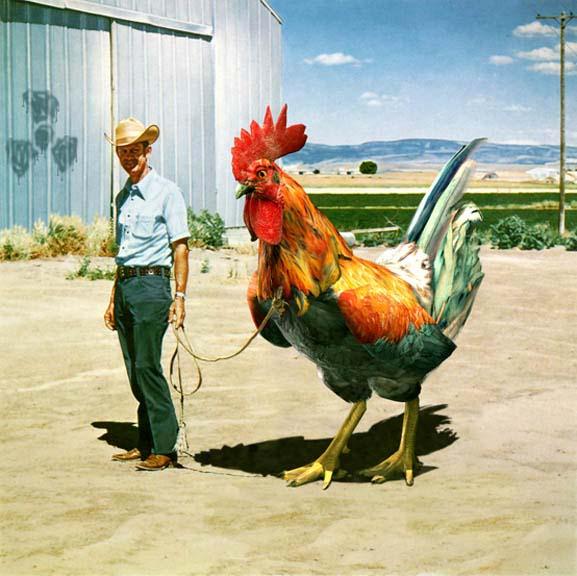 The famous Chupacabra
Chupacabra the flying cock was first seen in an illegal cockfight in the Bronx section of New York City where 19 Congressmen were arrested for cock abuse, illegal gambling, and drinking a potent hallucinogen known as Dead Gringo Malt Liquor.
The Puerto Rican guy won over $300,000 with his enormous cock. 
He then flew down to Puerto Rico, and caused immediate chaos throughout the island.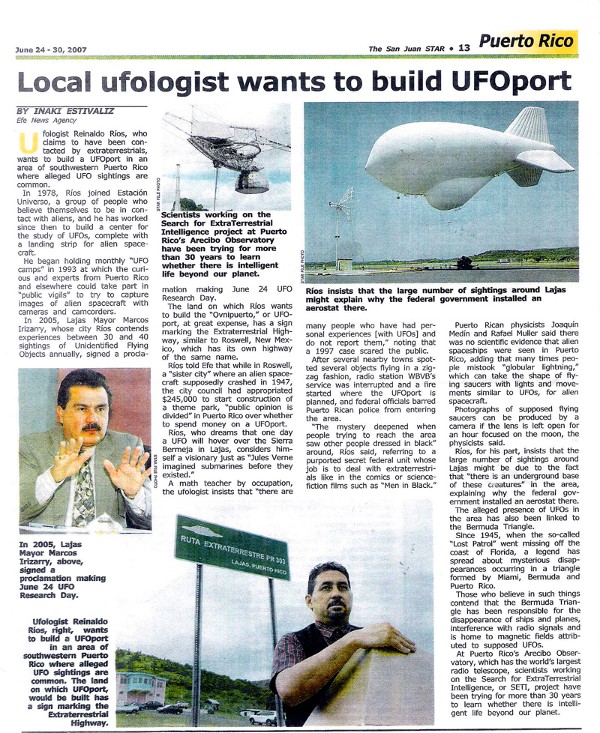 UFO sightings in Lajas, Puerto Rico
On Friday September 26 he handed $100,00 to a ufologist, $100,000 towards the completion of a UFO landing strip, and $100,000 to a pineapple farm owned by Marcos Irizarry, the mayor of Lajas.
The mayor holds a pineapple
The next day, the Puerto Rican launched a flying saucer over the San Juan Hilton. In honor of his prize cock, he named it the chupacarro.
The chupacarro takes off
The saucer crashed on the front lawn of La Fortaleza, the oldest Governor's Mansion in the Western Hemisphere.
Fortunately for the Puerto Rican, the Governor was not home.
As smoke cleared from his saucer, and TV cameras arrived, the Puerto Rican announced a zero-point energy technology (ZPE) which will reverse global warming and enable interstellar travel.
"Wait a minute!" exclaimed Sarah Palin on Fox News Tonight. "I saw that same flying saucer in Alaska, on a TV reality show!"
"That's a flying garbage can," warned CNN commentator Lou Dobbs. "This guy is sneaking more Mexicans into the U.S."
The ethnic origin of the aliens is still under review.
For the moment, the Puerto Rican continues his campaign for President of the United States, and senior Pentagon officials are analyzing the only videotape of his ZPE saucer.
A copy of this videotape appears below.
Alaska
,
Chupacabra
,
Chupacarro
,
CNN
,
Fox News
,
Hallucinogen
,
Lou Dobbs
,
Malt Liquor
,
Marcos Irizarry
,
Mexicans
,
Pentagon
,
San Juan Hilton
,
UFO
,
UFO Landing Strip
0 Comments